STAT MedCare Solutions, LLC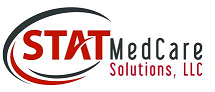 Contact Info:
hcds@statmedcaresolutions.com
STAT Services:
STAT has more than 60 combined years of credentialing, provider enrollment, payor rate negotiation and licensing experience. We are credentialing specialists and work with all medical and behavioral specialties/sub-specialties, with all payors, and across all U.S. states. We assign a Medical Staff Coordinator to work directly with you, accessible by phone and email when you need to speak with them. You can expect, at a minimum, a weekly status report to be emailed to you outlining everything we are working on with you - i.e. what is completed and what is in process – with dates and notes for everything we have worked on. We are timely, communicative, detailed and get results. Please submit a request for more information and one of our representatives will contact you within 24 hours. We look forward to speaking with you!